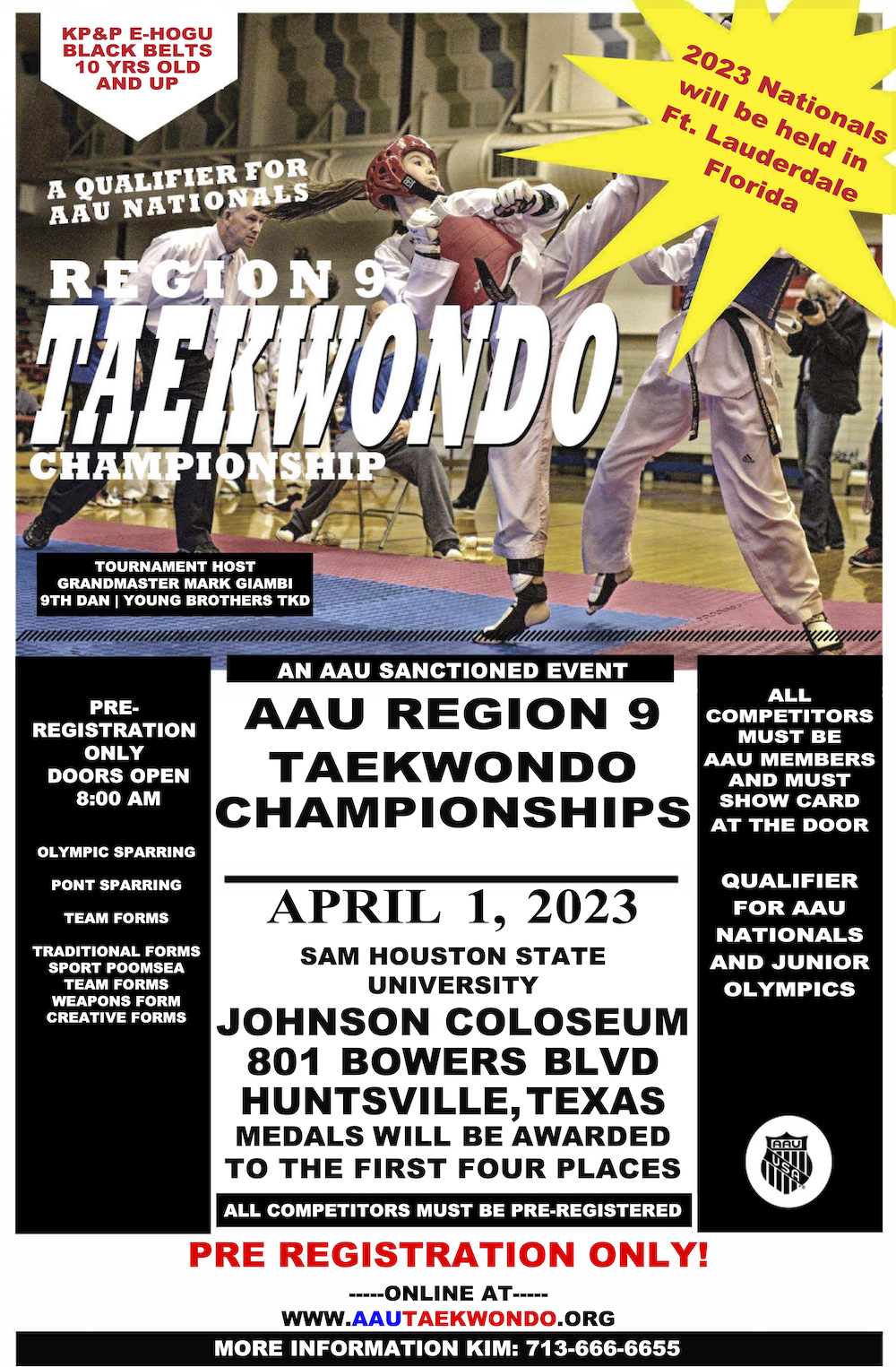 Tournament Information
VENUE: Sam Houston State University - Johnson Coliseum in Huntsville, Texas
ATHLETE ENTRY FEE: 1 or 2 Events - $125.00
Each Additional Event - $25.00
COACHES FLOOR FEE: $20.00
(must take coaches course online; fee paid online)
DOOR ADMISSION FEE (cash only): Adults: $10.00 | Kids: $5.00 | 3 yrs & under: Free
All Officials and Coaches who wish to participate MUST hold current 2023 A.A.U. Coaches/Officials credentials. You will be asked to show credentials at the door.
ENTRY DEADLINE: Registration for all events must be completed online no later than March 27, 2023. Registration completed from March 28-30, 2023 by 5:30 pm EST will be considered late and assessed a late fee of $25.00.
NO Registration at the Door!
A.A.U. Taekwondo RULES:
Traditional Forms:
Students must perform traditional form at their current rank or one rank below their current rank,
Uniforms must be neat with sleeves below the elbows,
Uniforms must be white.
Sparring Rules:
1. Equipment
AAU approved Chest Guard
AAU approved Head Gear
Groin ProtectorForearm Guards (cloth or vinyl)
Shin/Instep Guards (cloth or vinyl)
Mouthguard
2. Optional Equipment
Protective Eyewear
Athletic Tape
Note: White cloth athletic tape may be worn to support previously injured appendages as well as to protect any uninjured areas from becoming injured. Areas allowed to be taped include: fingers, thumbs, wrists and toes. This tape may be wrapped no more than two times around the appendage, and cannot be used in such a way as to prevent or severely restrict the movement thereof.