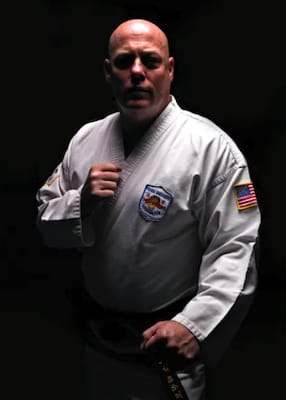 9th Dan Grand Master Mark Giambi
9th Dan Grand Master Mark Giambi, long time student of 9th Dan Grandmaster Young Bo Kong, established the first Young Brothers Taekwondo Centers in Houston, Texas.
Grand Master Mark Giambi began his Taekwondo training at the age of twelve, with World Champion Grand Master Yong Bo Kong as his original and primary teacher. Over the years, Grand Master Giambi also met and learned from some of the most prominent and highly respected Korean masters in North America. He also was associated with Taekwondo pioneers like 9th Dan Grand Master Young II Kong, Park Bu Kwang, and their teacher, General Choi Hong Hi, the acknowledged founder of modern Taekwondo.
2021 AAU Hall of Fame Inductee
On July 6, 2021 in Las Vegas, Master Mark Giambi, 9th Dan and Head Instructor of Young Brothers Taekwondo Texas was inducted into the AAU Hall of Fame for the Art of Taekwondo. He received the special distinction of being inducted into the Hall of Fame's inaugural class. Master Giambi has been training in Taekwondo for 50 years and has been instrumental in promoting the art for over 30 years through teaching and youth sports competitions at the local, regional and national level.